Whether it's a hurricane, snowstorm or just a summer shower, when the power goes out you'll want something reliable to help keep you going until the electricity comes back on. Our reliance on electricity to power our appliances, smartphones and computers is something we take for granted until it's taken away (even if only for a few minutes). When the power grid goes down, look to a portable generator for an excellent short-term solution to get back online without the expense or maintenance of a full-sized home generator. Here are our top choices for the best portable generators for those moments when you're stuck in the dark ages.
Best Overall: WEN 56200i
With a weight of just 48 pounds, the WEN 56200i is a fantastic choice for portable generators and is an easy-to-recommend option right off the bat. Featuring an extremely quiet operating level (51 decibels) that is softer than the standard volume output of two conversing people, the WEN offers 2,000 surge watts and 1,600 running watts for powering your items and devices. With two three-prong 120V inputs, one 12V DC input and one 5V USB port, there are more than enough plugs to keep your appliances, as well as your portable electronics, charged up.
Overall, the single-gallon tank can provide six hours of power to gadgets and appliances at a 50 percent load run time. Additionally, the WEN offers both low-oil and low-fuel automatic shutdown to help prevent the generator and your electronics from any damage while plugged in. To further maximize the generator's power, switching on Eco-Mode will help allow the generator's motor to automatically adjust its fuel consumption. That will help extend the generator's life to maximize its fuel capacity while still powering any item that's plugged in.
Best Budget: WEN 56180
If you're working with a limited budget or just want something basic, the WEN 56180 portable generator is ideal for making sure the food in the fridge doesn't spoil or that there's just enough light while camping under the moon. With a 1.45-gallon gas tank, the 56180 can keep you going at 50 percent load for around 7.5 hours. Operating on 1,800 surge watts and 1,500 running watts, it has enough power for both emergencies and recreational activities. There are three total outlets (two three-pronged 120V options and one cigarette lighter-styled 12V).
Unfortunately, there's no wheel kit provided, but one can be purchased separately. The good news is that at 50 pounds, the WEN 56180 is fairly lightweight and easy to transport. Additionally, the low power output requires less noise production (it has a 63-decibel rating). Add in a low oil shutdown feature and there's still some preventive care included in this price range to keep the generator from getting damaged.
Best for Quietness: Yamaha EF2000iS
If you're looking for a quiet portable generator, check out the Yamaha EF2000iS and its 51.5 decibel rating for the best combination of size and performance. Invertor generators draw power from a fixed DC source, most commonly a car battery, which helps maintain the reduced noise levels comparative to larger gasoline or propane-powered generators. Running just 1,600 watts of AC output with a 2,000-watt maximum, there's plenty of power here (13.3/16.7 amps at 120V) for camping where the quiet performance is made to not disturb the wildlife.
Fortunately, the 44-pound Yamaha doesn't feel particularly heavy, which is ideal for its 10.5 hours of continuous performance at 25 percent load on a 1.1-gallon single tank of gas. Additionally, there's an extra connection option to pair the Yamaha with a second unit to amplify the power to a full 30 amps. Beyond the power options, there's a low-oil automatic shut down and over-voltage protection, as well as an economical or economy switch to help keep the power low to spread out the available life over a longer period.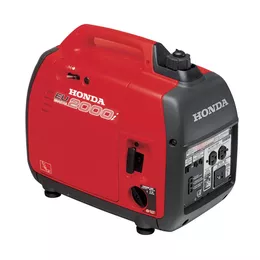 Best Splurge: Honda EU2000i
Running at just 59 decibels, Honda EU2000i is lightweight, durable and user-friendly. Weighing only 46 pounds and featuring a 1.1-gallon fuel tank, there's enough power for four hours of operation at 100 percent load and around 9.6 hours at 25 percent load. The inclusion of two AC outlets and one DC outlet offers flexibility for different types of rechargeable items or for keeping a refrigerator, television or laptop going.
The inclusion of features such as Eco-throttle and clean output also help explain away the more expensive price tag against its nearest competition. The 2,000 watts of starting power and 1,600 watts of running power maintain excellent fuel efficiency. There's also a standard oil alert for proper engine maintenance, as well as a circuit protection feature to prevent the generator from overloading. Additionally, you can connect the EU2000i in tandem with a similar unit and receive twice the power. All in all, with Honda's excellent three-year warranty behind it, the EU2000i is a superb option that's both small and quiet.
Best Lightweight: Briggs & Stratton 30651 P2200 PowerSmart
Powerful and versatile, the 55-pound Briggs & Stratton 30651 P2200 PowerSmart series portable generator is an outstanding choice for easy transporting. The H-handle design allows the generator to be easily moved via one person or it allows for two people to share the weight evenly and move the generator.
Powered by an 111cc motor, the 2,200 starting watts and 1,700 running watts of power are good for up to eight hours of operation on the one-gallon tank of gas at a 25 percent load. Capable of running most 120V household appliances, the Briggs & Stratton includes inverter technology to help power portable electronics such as a smartphone, tablet or laptop. At 59-decibels of operating power, it's quieter than the sound of a typical conversation between two people, so there's no concern over the generator interfering with your everyday life while running in the background.
Additionally, the control panel itself includes three total outlets (one DC and two household), plus a USB adapter. For even more power, the Briggs & Stratton can plug itself into a second unit to create an even stronger power source and keep more of the lights on. With a PowerSmart mode that automatically adjusts engine speed to conserve power, the Briggs & Stratton portable generator is an outstanding lightweight option.
Best Low Power: Suaoki 220Wh/20,000mAh
When just the basics are called for, the Suaoki 220Wh/20,000mAh portable generator is your first and best choice. While many might consider it an oversized battery pack, the Suaoki moves into generator territory because it has two AC outlets. One is designed for international use and requires an adapter for U.S. use (which is sold separately) and the second is the standard North American two-prong outlet. There are also two 12V outlets that can be utilized with the included cigarette adapter, as well as two 5V USB outlets. A fully charged Suaoki can power a smartphone more than 20 times and is more than capable of powering a TV, mini-refrigerator or other household electronics that are AC output-ready.
Recharging the Suaoki is a breeze, thanks to its own high-density lithium-ion battery that can be plugged directly into a home wall outlet or juiced up via the sun through any compatible solar panel. Weighing just six pounds sans charger, the unit can be easily lugged around with its built-in handle. Another nice addition is the rocker-style switch that helps quickly identify if the unit is on or off, so you don't accidentally draining power. At just 9.8 x 6.3 x 3.4 inches in size, it's easy enough to rest on a nightstand or table and equally compatible with trunk space in a car or SUV for taking on the road.
Best High Power: Briggs & Stratton 30663
Powered by a 7,000-starting watt engine, the Briggs & Stratton 30663 portable generator is the crème de la crème of power. It has more than 25 percent surge wattage available, so you can run both appliances and power tools at the same time. The 7.5-gallon engine can run for more than nine continuous hours at a 50 percent load. Turning the 30663 on is a cinch with a key electric start or remote stroke as a backup in the event the electric engine goes out for any reason.
Moving the 30663 around is "easy," though at 221 pounds, it's not something you'll want to handle by yourself. Fortunately, the inclusion of 12-inch, never-go-flat wheels ensure that portability is not an issue. With four 120V outlets available, plus a single 120/2140V 30-amp outlet, there's plenty of connectivity for multiple items. Additionally, keeping the engine in top shape is easy, thanks to circuit breaker protection, rubber outlet covers and an hour meter to help gauge performance.