Board games and wooden horses are so analog. These days, it's the digital stuff that rules the roost, including the hearts and minds of kids. Still, navigating the minefield that is today's gadgets can be tough for folks not well-versed with what whippersnappers consider "cool" these days. Below, we've created a list of the best portable electronics for teens. And we guarantee if you know a thing or two about what your teen's personality is, you'll find the perfect gift for them on this list. Maybe you want to get your teen to read more. Maybe you want to spend more time with them. Or maybe you want to secretly educate them. It's all here, so read on.
Best Video Game System: Nintendo Switch
Concerned parents who fear a gaming console will isolate their teenager shouldn't worry any longer. The Nintendo Switch is specifically designed to encourage your teen to get out of their cave and play with their friends. This means your teen (and one other) can go out in the sun and enjoy a few rounds of Mario Kart 8 Deluxe or Super Bomberman R by just using one shared console.
Of course, you can get up to four players or more on the Nintendo Switch as long as you buy an extra Joy-Con controller. Based off Amazon reviewers, the portable battery for the system lasts about 3 to 5 hours depending on the type of game played. More intense graphic heavy processing games will limit the battery life, while lighter more quick games will preserve its power.
Best Drone: RC Quadcopter Drone
Flying a kite is old news; now it's all about piloting a quadcopter drone. The RC Quadcopter Drone is perfect for teens that love to explore, be outdoors, and pretend they're part of the NSA. It's also the No. 1 Best Seller in Pre-Built Model Helicopters on Amazon, so you know you're getting one of the best and most reviewed products that's been tested and owned.
With an affordable price under $50, the RC Quadcopter Drone comes with a FPV (first person view) camera and live video. It connects with and is entirely controlled with your teen's smartphone through its dedicated app and WiFi. The palm-sized drone is made of a foldable and flexible aerofoil that prevents your teen from getting cut from its whirring blades.
There's no FAA registration on the quadcopter, so your teen won't have to worry about breaking any laws that get you in trouble. The RC Quadcopter Drone has a remote control height of up to 20 to 30 meters and a distance of 5 to 80 meters. It can fly for about seven to 10 minutes and charges in less than an hour.
Best Robot Kit: Robot Kit: Makeblock mBot Kit
The machines are taking over! In a few years, machine learning and programming will become one of the hottest and most lucrative careers in existence. What better way to set your teen up by giving them a toy that teaches them to build their own robot all while learning a valuable skill?
The Makeblock mBot Kit comes with everything you need to build a Bluetooth-operated robot. This educational kit is perfect for any teen that wants to become familiarized with graphical programming, electronics and robotics, but doesn't know where to start. Teens will get their chance at building their robots by assembling 32 included parts, use drag and drop graphical programming and explore and customize various functionalities.
The Makeblock can be programmed as a car that avoids obstacles and an in-line following vehicle. It can even be played with in programmable games such as soccer and sumo wrestling. With its "infinite extensibility," your teen can add on their old Lego blocks to the mBot's mechanical body and further develop functionality with the Arduino open source eco-system that allows for endless possibilities in robot building. Just make sure your teen doesn't build the T-1000 from Terminator 2.
Best Virtual Reality System: HTC VIVE
Want to really impress your teen with the latest technology? Want to send them to another world? Get them the HTC VIVE, the ground-breaking virtual reality system that will make even parents want to get in on the action. It provides room scale VR, emerging your teen into another dimension where they can physically interact with 3D objects and play VR specific games.
The HTC VIVE is perfect for any teen gamer that wants the best in virtual reality. The system is compatible with over hundreds of games on SteamVR, so there are countless worlds to play in and environments to interact with. You can even condition your teen's bravery by sending them on a first person rollercoaster, boxing match or to the dentist's office. Included are wireless controllers designed to make interacting in virtual reality more natural and intuitive.
The device features an adjustable headset for comfort and provides multiple eye relief adjustments, including lens distance so you won't have to worry about your teen having strained eyes or soreness. It features SteamVR tracking, too, so your teen will always experience the best of virtual reality whether they're sitting, standing or in a room-scale space.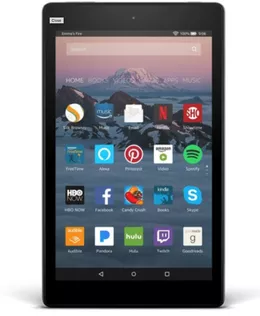 Best E-Reader: Fire HD 8 Tablet
The Fire HD 8 Tablet on Amazon is the perfect tablet under $100 that'll make your teen feel like an astute and sophisticated adult. It has 16GB of eternal storage (and a microSD slot for up to 200GB of expandable storage), allowing for more than enough memory to hold up to 1,000 electronic books.
With a 12-hour battery life, a 1.3 GHz quad-core processor, Dolby Audio and an 8" HD display, your teen will have countless hours and access to a world of both entertainment and learning. Besides carrying a library in their backpacks, teens can find enjoyment with the tablet's other capabilities. The Fire HD 8 can store and play videos, broadcast streaming services such as Netflix and Hulu, surf the Internet, access Facebook and Twitter and has 400,000 apps available.
Sound like too much? FreeTime Parental Controls allow for a time limit on entertainment, so you can get your teen to read more and stop goofing off. The Fire's Blue Shade feature makes for optimal comfortable reading and minimizes blue light, so as to not inhibit your little bookworm from falling asleep.
Colors come in black, blue, magenta, and tangerine.
Best Gaming Headphones: ASTRO Gaming A40 TR Headset
Maybe there's too much noise coming from your teen's room? But there's a way to keep their noisy TV or computer volume down when they're playing a video game and that's be investing in the ASTRO Gaming A40 TR Headset (one of the best out right now).
The ASTRO Gaming A40 TR Headset features pro quality audio designed specifically for pro gamer. It's designed to give clarity to every detail at every frequency and volume level. It comes with Dolby Surround 7.1 technology, as well as a Dolby Headphone output, which allows for clarity in sound (those gunshots might sound a bit too real) and voice chat, so your teen can politely disagree with opponents.
The ASTRO is lightweight and features an ergonomic design intended with the user's comfort in mind. It's adjustable and won't cause your teen any neck cramps or blown out eardrums. It's compatible with the Windows and Mac operating systems and comes with two models used for either the PlayStation 4 or Xbox One.
Best Gaming Mouse: Logitech G502 Proteus Spectrum
Is your teen a competitive computer gamer? Do they play intense shooters such as Overwatch, Rainbow Six: Siege or Call Of Duty? Want to make sure they're not screaming over losing matches by giving them an extra competitive edge with one of the most powerful gaming mice on the market?
The Logitech G502 Proteus Spectrum is a mouse made for competitive online first person shooters. It features an advanced optical gaming sensor designed by Logitech that makes it their most accurate and responsive mouse to date. It comes with customizable weights that can be placed under the mouse to conform to the perfect fit and feel. DPI settings are customizable, too, allowing for 200 to 12,000 DPI to adjust for any intense gaming situation for primed sensitivity.
The Logitech G502 also includes customizable lighting, surface tuning and button macros. Your teen can change its color scheme and lighting frequencies with its included Logitech Gaming Software application. It's compatible only with Windows 10, Windows 8.1, Windows 8 and Windows 7 operating systems.
Best Gaming Laptop: Alienware AW15R3-3831SLV
The ultimate gaming system isn't always a PlayStation or Xbox, but a computer. Alienware is famous for making some of the best gaming laptops on the market that any teen could die for. The AW15R3-3831SLV is Alienware's latest in powerhouse laptops; it's sure enough to be relevant for more than half a decade, so you don't have to worry about buying anything else for your teen.
The AW15R3-3831SLV features a 15" FHD 120Hz display and boasts an Intel Core i7-6700HQ 3.5 GHz processor with an NVIDIA GeForce GTX 1060 and 6GB GDDR5 graphics memory. In other words, this means it can play virtually any video game in existence for the next five years. Your teen won't be complaining about game speed either, as the laptop comes included with 16GB DDR4 RAM with a 32GB maximum. The 128GB SD drive with a 1TB 7200RPM means countless data storage and immediate program launches without the wait.
Want to pair it with the HTC VIVE? It comes VR-ready and supports the highest video output of a 4K HD resolution. The powerful laptop includes a pre-installed Windows 10 operating system. Amazon users who own the product say it's one of the best gaming laptops on the market. More critical reviewers mention that building a PC desktop is cheaper and initial setup can take time.